Mortgage And Housing : What To Expect With 11 Months Left In 2013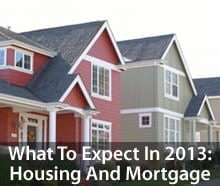 As we head into February, housing analysts are gaining perspective on the 2012 real estate market, and are using data to project where housing may be headed through 2013.
For home sellers, there's a lot about which to be excited. For home buyers, however -- especially first-time home buyers -- the cost of homes and homeownership are expected to rise.
The sooner you buy, the more likely it is that you'll get a "great deal".
Click here to get today's mortgage rates (Oct 23rd, 2017).
Mortgage Demand Rising Into 2013
Data from the Lender Processing Services Mortgage Monitor Report shows that 2012 was a year of recovery for mortgage loan originations.
Approximately 8.6 million mortgage loans were originated in 2012, a 34 percent increase from the year prior and the most since 2007. This is significant because mortgage standards are much tighter today as compared to last decade. This year's loans are "good loans", and that supports the broader mortgage-backed bond market.
84 percent of mortgage origination loans were government-backed during 2012, up from 50 percent during peak lending conditions in 2007. This reflects a greater use of federal loan programs including HARP 2.0, the FHA Streamline Refinance, and the VA Streamline Refinance.
Each of these programs can benefit underwater homeowners.
More Home Sales, Higher Median Prices In 2013
According to the National Association of REALTORS®, the rate of existing-home sales jumped last year.
The sales data, which includes single-family homes, townhouses, condominiums and co-ops, shows that total sales for 2012 reached 4.65 million, an increase of 9 percent from 2011. Not only does this represent the highest level of annual sales in five years, it also marks the largest increase in sales since 2004.
Furthermore, the median existing-home price was $176,600 in 2012, a 6.3 percent increase from the previous year. Not since 2005 had the median home sale price improved that much year-over-year.
Several U.S. metropolitan areas showed double-digit annual home price growth. Not surprisingly, many of them were hard-hit last decade. Based on recent Case-Shiller Index data, Phoenix, Arizona climbed +22.8%; San Francisco, California rose + 12.7%; Detroit, Michigan moved +11.9%; and Las Vegas posted +10.0%.
Nationwide, home values are rising, putting pressure on today's home buyers. Buy a home today, or wait it out a bit? Those who have waited are paying the price -- literally.
Click here to get today's mortgage rates (Oct 23rd, 2017).
Foreclosure Inventory Dropping
According to RealtyTrac's Year-End 2012 U.S. Foreclosure Market Report, 2,304,941 foreclosure filings were reported on 1,836,634 properties throughout the country during 2012. This marks a 3 percent decrease from the previous year.
As compared to 2010, foreclosure activity is down 36 percent.
For today's home buyers, the lack of foreclosed homes for sale removes a viable home-buying option. Foreclosed homes tend to sell at 20 percent discounts as compared to comparable, non-distressed property. With fewer foreclosures for sale, it's tougher to find deep discounts.
It's one reason why median home sales prices are rising. Furthermore, with mortgage delinquencies down more than 9 percent annually, 2013 is expected to see fewer foreclosures nationwide.
Click here to get today's mortgage rates (Oct 23rd, 2017).
What Will Mortgage Rates Do In 2013?
Mortgage rates have been rising since the start of the year, tacking on a quarter-percentage point. The increase has been a shock to rate shoppers, and has raised the cost of homeownership. However, the jump is right on track with the Mortgage Bankers Association (MBA) and its 2013 mortgage rate prediction.
According to the MBA, mortgage rates will reach 4.4% by the end of the year -- more than 1 percentage point above the year's starting rate.
With mortgage rates and home prices both forecast to increase this year, therefore, home buyers and would-be refinancing household may want to lock in low mortgage rates now while affordability remains near all-time highs.
Click here to get today's mortgage rates (Oct 23rd, 2017).
The information contained on The Mortgage Reports website is for informational purposes only and is not an advertisement for products offered by Full Beaker. The views and opinions expressed herein are those of the author and do not reflect the policy or position of Full Beaker, its officers, parent, or affiliates.
Try the Mortgage Calculator