Mortgage Rates Make Worst Annual Start Since 2000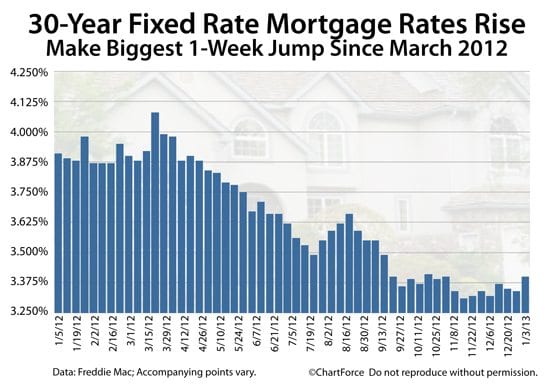 Mortgage rates are off to a rough start this year.
After trending lower through most of 2012, the average 30-year fixed rate mortgage rate has now climbed 0.05 percentage points since the start of the year, according to mortgage securitizer Freddie Mac.
For homeowners looking to refinance to low rates, the window of opportunity may be closing.
Click here to see today's mortgage rates (May 27th, 2017).
Mortgage Rates : Biggest 1-Week Jump Since March
The average 30-year fixed rate mortgage has climbed to 3.40% nationwide, and requires an average of 0.7 discount points to be paid at closing, along with the "typical" mortgage closing costs.
The cost of 0.7 discount points is equal to 0.7 percent of your loan size such that a home buyer in San Jose, California, for example, borrowing at the local jumbo loan limit of $625,500 would be subject to an additional $4,378 in fees in addition to the standard costs of closing a purchase loan in California.
In general, the more discount points you pay for a mortgage, the lower your mortgage rate will be. This is because discount points are considered "prepaid interest"; advance monies paid on your mortgage. In exchange for higher fees today, lenders reward borrowers with smaller interest costs for the future.
Freddie Mac's survey's use of discount point is one reason why rates almost always appear lower on Freddie Mac's site as compared to what you may see elsewhere online.
For example, this week's mortgage rate survey from the Mortgage Bankers Association (MBA) shows the 30-year fixed rate mortgage rate at 3.61% for borrowers willing to pay an accompanying 0.41 discount points as well as a full set of closing costs. This is nearly the exact "deal" as what's shown at Freddie Mac's website.
The MBA is showing higher rates, but with fewer points. This is how mortgage rates work.
Click here to get today's mortgage rates (May 27th, 2017).
30-Year Fixed Rate Mortgage Rate At 3.40%
This week, Freddie Mac reports the average 30-year fixed rate mortgage rate at 3.40%, its highest point since early-November 2012 and a +0.06 percentage point jump from the week prior. This marks the largest one-week jump in rates in 10 months.
It also caps the worst annual start for conforming mortgage rates since 2000.
In tracking average mortgage rate changes through the first two weeks of the year, 2013 ranks as the worst in 13 years. This year's rate shoppers are on the wrong side of luck.
Average change 2001-2012 : -0.11 percentage points
Actual change 2013 : +0.06 percentage points
At today's average rates, therefore, a borrower in Denver, Colorado borrowing at the local conforming loan limit of $417,000 should expect to pay $15 more per month for the mortgage as compared to two weeks ago.
The complete results for Freddie Mac's survey follow :
30-year fixed rate mortgage : 3.37% with 0.7 discount points
15-year fixed rate mortgage : 2.66% with 0.7 discount points
5-year adjustable rate mortgage : 2.67% with 0.6 discount points
Note that mortgage applicants opting for low-closing cost and zero-closing cost mortgages will pay slightly higher mortgage rates that what Freddie Mac lists above, but will not be subject to discount points and/or "typical" closing costs.
If you prefer low-closing cost or no-closing cost mortgages, make sure to mention it to your lender.
Click here to get today's mortgage rates (May 27th, 2017).
See Today's Mortgage Rates
Freddie Mac's weekly mortgage rate survey is one of average. You may receive a mortgage rate that's slightly higher or lower depending on your specific loan traits. For example, investment property mortgages using the 5-10 properties program; and mortgages performed under HARP may receive slightly higher rates.
Loans for homes with large amounts of equity may receive slightly lower rates. Furthermore, Freddie Mac's survey applies to conforming loans only. FHA and VA mortgage rates follow different pricing models.
Mortgage rates are rising. See how today's rates can lower your monthly payment. Get started with a rate quote.
Click here to get today's mortgage rates (May 27th, 2017).
The information contained on The Mortgage Reports website is for informational purposes only and is not an advertisement for products offered by Full Beaker. The views and opinions expressed herein are those of the author and do not reflect the policy or position of Full Beaker, its officers, parent, or affiliates.
Try the Mortgage Calculator