30-Year Fixed Rate Mortgage Rate : Get Ready To Lock Your Loan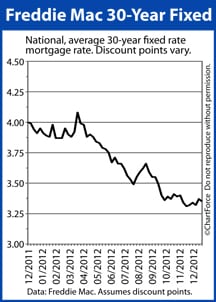 Mortgage rates tumbled in 2012, as recent home buyers and refinancing households know. 
The average conforming 30-year fixed rate mortgage rate dropped another 2 basis points last week to close the year at 3.35% -- more than one-half percentage point as compared to one year ago.
Click here for a mortgage rate quote (Jul 22nd, 2017).
3.35% 30-Year Fixed Rate Mortgage Rate
Each week, government-backed mortgage securitizer Freddie Mac surveys more than 125 banks, asking their current 30-year fixed-rate mortgage rate for "prime" borrowers. Such mortgage rates dropped 0.o2 percentage points in the last week of the year, closing at 3.35 percent nationwide, on average.
The reported average of 3.35% requires an average of 0.7 discount points to be paid at closing.  A discount point is a one-time, upfront fee due at closing and equal to 1 percent of the borrowed loan size.
In this way, a prime borrower paying 0.7 percent discount points in New York City, New York; San Francisco, California; or, Bethesda or Potomac, Maryland borrowing at the local $625,500 jumbo loan limit would expect to pay discount points totaling $4,378 to access the 3.35% mortgage rate.
Mortgage applicants opting for low- or zero-closing cost mortgages won't pay discount points, but should expect higher mortgage rates from their lender as a result.
Freddie Mac's survey showed the average 15-year fixed-rate mortgage unchanged from the week prior at 2.65 percent, with an accompanying 0.7 discount points
Click here for a mortgage rate quote (Jul 22nd, 2017).
Mortgage Rates Projected To Rise In 2013
Mortgage rates averaged 3.66 percent throughout 2012. This is the lowest annual mortgage rate average on record, a data series extending 65 years. Mortgage rates are more than historically-low -- they are all-time low.
In 2013, though, mortgage rates are expected to rise. The forces that conspired to hold mortgage rates down -- a weak economy, high joblessness, political uncertainty -- are subsiding. Wall Street is preparing to take more risk and -- when it does -- mortgage rates will suffer.
If you've been shopping for a mortgage and wondering whether it's a good time to lock a mortgage rate, err on the side of caution. Mortgage rates may fall in 2013 but there's a lot more room for rates to rise. 
Click here for a mortgage rate quote (Jul 22nd, 2017).
The information contained on The Mortgage Reports website is for informational purposes only and is not an advertisement for products offered by Full Beaker. The views and opinions expressed herein are those of the author and do not reflect the policy or position of Full Beaker, its officers, parent, or affiliates.
Try the Mortgage Calculator