Government : Home Price Appreciation Streak Reaches 8 Straight Months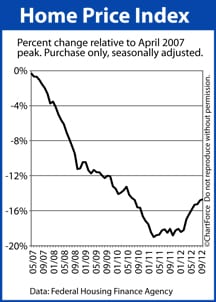 Home prices continue to rise nationwide.
According to data from the Federal Housing Finance Agency (FHFA), U.S. home values climbed 1.1% between the second and third quarters of this year.
It's the latest in a string of data which suggests that the housing market's bottom is behind us.
With low mortgage rates, relatively cheap housing options, and ample access to low- and no-downpayment mortgages, 2013 is expected to be a strong one for housing, too.
Click here for today's mortgage rates (Jul 22nd, 2017).
Colorado Rockies States Leads Gainers
The FHFA Home Price Index (HPI) is a seasonally-adjusted, purchase-only home valuation tracker. It's based on the sales price of homes sold and financed via Fannie Mae or Freddie Mac.
The September 2012 Home Price Index showed a 0.2% increase in national home values between August and September; and an annual home price gain of 4 percent. The report also marked the third straight quarter of home price appreciation -- the first time that's happened since 2007 -- and the 8th straight month of gains.
Among the FHFA's 9 reported regions, differences in annual home price appreciation were stark :
Mountain Region : +10.3% home price gain
Middle-Atlantic Region : +0.9% home price gain
Pacific Region : +7.6% home price gain
Only New England showed a negative 12-month change, dropping -0.5 percent.
Also noteworthy is that, for the 25 most populated metro areas covered by the FHFA Home Price Index, third quarter home price increases were largest in the Phoenix-Mesa-Glendale, Arizona Metropolitan Statistical Area, climbing more than 7 percent.
The Phoenix area had been among the hardest-hit real estate markets in last decade's downturn. Now, the Sun Valley is leading the recovery.
Click here for today's mortgage rates (Jul 22nd, 2017).
Housing Market To Show More Gains In 2013
The U.S. housing market likely bottomed in October 2011. In the months since, it has shown steady, slow, consistent growth. Home values have slowly improved, home supplies have slowly shrunk. There is market momentum heading into 2013, and home price appreciation is expected to continue.
For today's home buyers, with mortgage rates low and home prices still relatively cheap, the next six weeks between now and the start of February 2013 may represent the last remaining window to get a "great deal" in housing.
See how today's mortgage rates fit in your budget. Get started with a rate quote.
Click here for today's mortgage rates (Jul 22nd, 2017).
The information contained on The Mortgage Reports website is for informational purposes only and is not an advertisement for products offered by Full Beaker. The views and opinions expressed herein are those of the author and do not reflect the policy or position of Full Beaker, its officers, parent, or affiliates.
Try the Mortgage Calculator