Mortgage Rates : Why It's Time To Stop Shopping And Start Locking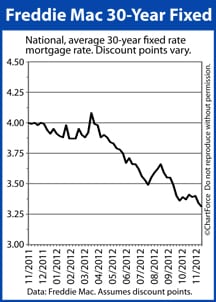 Mortgage-backed securities (MBS) worsened last week for the second straight week.
During the Thanksgiving-shortened week, the Fannie Mae (FNMA) 3.0% 30-year coupon finished -11/32. Conforming mortgage rates moved higher as a result, thwarting HARP 2 rate shoppers and homeowners looking to lock jumbo-conforming mortgage rates.
The Ginnie Mae (GNMA) 3.0% 30-year coupon finished worse, too, moving 12/32 last week. Ginnie Mae mortgage bonds are linked to FHA and VA mortgage rates so both FHA Streamline Refinance and VA IRRRL mortgage rates climbed last week, overall.
Get today's mortgage rates (Oct 23rd, 2017).
Mortgage Rates Rose During Thanksgiving Week
Mortgage rate shoppers couldn't catch a break last week.
As Black Friday approached, mortgage rates of all types moved progressively higher, climbing from Freddie Mac's all-time best 3.31%, while FHA-insured homeowners learned that FHA mortgage insurance premiums (MIP) will increase for all new loans in 2013.
Coupled with rising home prices nationwide, the long-term cost of homeownership is up.
Mortgage bonds worsened last week for three main reasons.
First, housing data showed that the budding recovery may be stronger than previously expected. Existing Home Sales and Housing Starts both showed solid growth from the month prior, and housing is believed to be keystone of the U.S. economic recovery.
Specifically, the Existing Home Sales data showed home supplies into Bull Market territory and Housing Starts reflect soaring builder confidence. Housing creates jobs and Wall Street reacted accordingly, bidding up stocks and selling off bonds.
Get today's mortgage rates (Oct 23rd, 2017).
Second, mortgage rates rose on the expectation the the Eurozone will (finally) extend aid to Greece, stabilizing the nation-state and the region. The future of the European Union has been clouded since 2010 which has helped moved U.S. rates lower. As the region moves forward, it follows that U.S. rates would reverse higher.
And, lastly, mortgage rates rose on expectations for a strong holiday shopping season.
Consumer spending accounts for 70% of the U.S. economy and the retail season started early this year. Early reports showed high register receipts and an uptick in the volume of online shopping -- even prior to today's so-called Cyber Monday.
As reports roll in from the nation's largest retailers, mortgage rates are expected to climb.
Get today's mortgage rates (Oct 23rd, 2017).
The End Of 2012 Low Mortgage Rates?
Mortgage rates are expected to rise slowly this week. Trading volume will approach "normal" levels and with consumer spending expected to stay strong, mortgage pricing will worsen for U.S. homeowners and rate shoppers alike.
The week's economic calendar is jammed, too. In addition to 7 scheduled Fed President speeches, plus one from Fed Chairman Ben Bernanke, the following data will hit the wires :
Monday : None
Tuesday : Durable Goods; Case-Shiller Index; FHFA Home Price Index
Wednesday : New Home Sales
Thursday : Jobless Claims; Pending Home Sales Index
Friday : Personal Income And Outlays
Last week, Freddie Mac put the average, conforming 30-year fixed rate mortgage rate at 3.31% nationwide and the average, conforming 15-year fixed rate mortgage rate at 2.63% -- both all-time lows. This week, rates have already moved higher.
If you're currently floating a mortgage rate, shopping for one, or waiting to refinance via the FHA Streamline Refinance, get your mortgage in-process today. Since the start of the decade, mortgage rates have traditionally climbed between late-November and mid-March.
The best rates you get may be the rates you see today.
Get today's mortgage rates (Oct 23rd, 2017).
The information contained on The Mortgage Reports website is for informational purposes only and is not an advertisement for products offered by Full Beaker. The views and opinions expressed herein are those of the author and do not reflect the policy or position of Full Beaker, its officers, parent, or affiliates.
Try the Mortgage Calculator