Mortgage Rates Drop On Tame U.S. Inflation, Eurozone Recession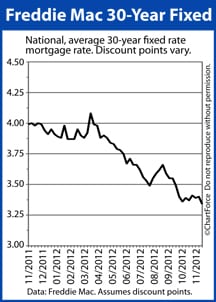 Mortgage-backed securities (MBS) improved Wednesday, breaking a two-day losing streak.
The FNMA 3.0% 30-year coupon improved +3/32 to 104.29, and the GNMA 3.0% 30-year coupon closed +5/32 at 106.21.
Conforming mortgage rates, FHA mortgage rates and VA mortgage rates all improved Thursday. Jumbo mortgage rates made no change.
MBS pricing peaked at 2:00 PM ET.
Get today's mortgage rates (Oct 20th, 2017).
30-Year Rates Fall To 3.34%
Thursday, Freddie Mac reported the average 30-year fixed rate conforming mortgage rate falling to 3.34% nationwide -- an all-time low. The rate is available to borrowers willing to pay 0.7 discount points, where 0.7 discount points is a one-time closing cost equal to 0.7 percent of the loan size.
The 15-year fixed rate mortgage also made a new low, dropping to 2.65% on average.
It's not just conforming rates that are lower, either. 
Since the Federal Reserve's mid-September launch of QE3, FHA and VA mortgage rates have been in rapid decline. Homeowners using the FHA Streamline Refinance and VA IRRRL program have been greeted by the lowest rates of a lifetime and simple, breezy underwriting.
Get today's mortgage rates (Oct 20th, 2017).
Mortgage Rates Ease After Tame Inflation Data
Mortgage markets were in the black for most of Thursday's action.
In the morning, October's Consumer Price Index (CPI) was released, posting a 0.1% increase as compared to September. The modest rise suggests that inflationary pressures in the economy are easing because CPI measures the cost of everyday goods and services.
Excluding food and energy costs, CPI rose 0.2%.
Also early Thursday, the number of first-time jobless claims spiked to 439,000 from last week's reading of 355,000. The jump is tied to Hurricane Sandy. Last week, would-be first-time filers in Virginia, Washington, Pennsylvania, New York, New Jersey, and Connecticut may not have been able to file claims. This week, markets caught up. 
The week-to-week volatility of the Initial Jobless Claims data is one reason why Wall Street tends to focus on the metric's 4-week rolling average, which is now 383,750. 
Readings below 400,000 are linked to rising employment.
Get today's mortgage rates (Oct 20th, 2017).
Friday : Mortgage Rates Move On Fiscal Cliff, FHA
Friday, there is little economic data set for release so markets will move on external events.
In Europe, it was shown that the Eurozone is now in recession. This has the net effect of boosting U.S. bond markets, including the mortgage-backed ones.
Here at home, the Fiscal Cliff story continue to generate headlines. As the U.S. moves closer to a solution which will avoid the Fiscal Cliff -- the year-end date upon which large tax cuts roll back and government spending is automatically slashed -- mortgage rates are expected to rise.
For now, Capitol Hill rhetoric has helped rates remain low.
And, lastly, Friday will see the release of the FHA's annual budget. The FHA is expected to show large losses which may impact future FHA borrowers via higher mortgage insurance premiums and fewer loan approvals.
The time to get an FHA mortgage is today -- not six months from today. This will be an ongoing story for U.S. home buyers and users of the FHA Streamline Refinance program.
Get today's mortgage rates (Oct 20th, 2017).
The information contained on The Mortgage Reports website is for informational purposes only and is not an advertisement for products offered by Full Beaker. The views and opinions expressed herein are those of the author and do not reflect the policy or position of Full Beaker, its officers, parent, or affiliates.
Try the Mortgage Calculator