268 Cities : Precision Home Buying For U.S. Real Estate Investors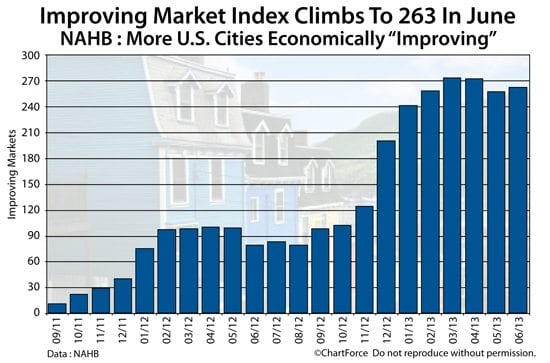 It's not just the housing market that's heating up nationwide -- the broader U.S. economy is, too.
According to the National Association of Homebuilders (NAHB), 268 U.S. metropolitan areas are showing "measurable and sustained growth" this month, which is more than double the count from last fall.
For real estate investors in search of opportunity, the Improving Market Index highlights cities in which investments may be well-timed.
Click here for today's updated mortgage rates (Jul 22nd, 2017).
268 U.S. Markets Are "Improving"
The Improving Market Index (IMI) is a monthly publication meant to be more than just a housing market indicator, a la the Case-Shiller Index or the New Home Sales report.
As published by the homebuilders trade group, the Improving Market Index is meant to identify U.S. metropolitan areas in which economic growth is occurring broadly.
To find such "growth cities", then, the NAHB collates local economic data across three separate data series, each sourced from a different government division, and then applies to them a formula.
First, the NAHB wants to see month-over-month growth in each of the three data series. Improving readings suggest that the given local economy is expanding.
Next, the NAHB  confirms that at least six months have passed since each of its three tracked series have "bottomed". In watching for new troughs, the index allows for zig-zag growth, but only with a positive trend.
Metropolitan areas which meet both economic standards are then deemed "improving", and the city is added to the NAHB Improving Market Index tally.
The data sets employed by the IMI are :
Local employment statistics, as provided by the Bureau of Labor Statistics
Local changes in home prices, as provided by Freddie Mac
Local single-family housing starts, as provided by the U.S. Census Bureau\
The methodology of the Improving Market Index permits it to look past "green shoot" recoveries and false starts; focusing instead on longer-term, more sustainable growth within its tracked U.S. markets. It's these markets in which real estate investors may find their strongest long-term returns.
Click here for today's updated mortgage rates (Jul 22nd, 2017).
All 50 States Represented : Good Buys Everywhere
The June 2013 Improving Market Index includes metropolitan areas from within all 50 states. The District of Columbia is included, too.  Overall, 75 percent of the IMI's tracked markets made the list.
Among the newly-added "improving" cities :
Santa Cruz, California
Tallahassee, Flordia
Savannah, Georgia
Chicago, Illinois
Springfield, Massachusetts
Philadelphia, Pennsylvania
Champaign, Illinois
It's also noteworthy that the IMI already includes such cities as Orlando, Florida ; Las Vegas and Reno, Nevada; and Oxnard and Modesto, California. Two years ago, these cities were among the nation's leaders in foreclosure activity. Today, each shows home prices climbing, housing starts improving, and employment rates is rising.
For Real Estate Investors, A Target
For today's real estate investors, there's more to buying a home than just finding a "cheap property". Area growth and local economies matter, too -- especially when you're dependent on renters with good jobs to fill bedrooms and pay rent.
Some investors pay cash. For everyone, there are two loan programs worth considering.
The first is the 5-10 Properties Program which exists for investors with more than 4 properties financed. The second is the Delayed Cash-Out Refinance which is for homeowners who pay cash for a home, but want to extract that equity as cash at a later date.
See how much home you can afford. Get started with a rate quote today.
Click here for today's updated mortgage rates (Jul 22nd, 2017).
The information contained on The Mortgage Reports website is for informational purposes only and is not an advertisement for products offered by Full Beaker. The views and opinions expressed herein are those of the author and do not reflect the policy or position of Full Beaker, its officers, parent, or affiliates.
Try the Mortgage Calculator