Mortgage Rate Outlook : Rising Rates Subject To FOMC, Housing Data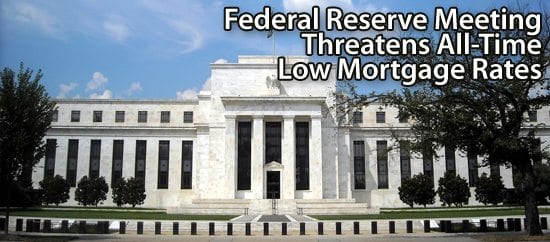 The problem with timing a "mortgage rate bottom" is that a bottom can't be called until mortgage rates have climbed.
Last week, amid rising mortgage rates nationwide, it looked as if that time had come. Mortgage-backed securities (MBS) fared terribly on better-than-expected U.S. economic data and Eurozone optimism, which combined to push mortgage rates higher over four consecutive days.
Conventional mortgage rates rose. FHA mortgage rates rose. VA mortgage rates rose. And, jumbo mortgage rates rose. Each lost considerable ground and -- if not for Friday's profit-taking -- would have moved to 5-week worsts.
It was a bad week to be shopping for mortgage rates. Thankfully, Friday forced a retreat.
Click here for today's mortgage rates (Oct 23rd, 2017).
Freddie Mac : 30-Year Fixed Rate To 3.37%
Mortgage rates climbed four straight days to start last week, but the increase was slow through mid-morning Tuesday. It wasn't until late-day Tuesday that things got bad. Then, through Wednesday and Thursday, the real damage was done.
You wouldn't know this, however, in seeing Freddie Mac's weekly mortgage rate report, which was released Thursday.
Freddie Mac reported mortgage rates dropping last week, with the 30-year fixed rate mortgage slipping 2 basis points to an average 3.37% for borrowers willing to pay 0.7 discount points plus a full set of closing costs.
It said that the 15-year fixed rate mortgage dropped, too, falling 4 basis points to an average of 2.66%; this rate requiring 0.6 discount points plus a full set of closing costs.
Freddie Mac missed the news last week because its survey is conducted early in the week. Banks reported back before markets had worsened. As a result, when the Primary Mortgage Market Survey was released Thursday morning, it was reporting on mortgage rates from before the spike.
Last week's rate shoppers found this out the hard way.
By Thursday, 3.37% 30-year fixed rates were not available for just 0.7 discount points plus closing costs. Pricing had worsened substantially.
Click here for today's mortgage rates (Oct 23rd, 2017).
Week Ahead : FOMC, Housing Data, Europe
Looking ahead to this week, mortgage rates may rise again.
The week's biggest story is the Federal Reserve's Federal Open Market Committee (FOMC) and its seventh scheduled meeting of the year -- a 2-day affair. Anytime the FOMC meets, mortgage rates can get volatile. The best course of action is prepare yourself.
After its last meeting, the Federal Reserve launched its third round of qualitative easing (QE3), promising $40 billion in mortgage bond buys until the economy was well into economic recovery.
QE3 has been a catalyst in driving mortgage rates to new all-time lows, a move that helped conforming mortgage borrowers to refinance to lower rates via HARP 2, for example. It has also helped rates for the FHA Streamline Refinance and VA Streamline Refinance (IRRRL) programs.
The Fed is not expected to announce new stimulus after this week's meeting, but it will likely acknowledge improving economic conditions since its last meeting six weeks ago. Verbiage of this sort may lead mortgage rates higher.
Click here for today's mortgage rates (Oct 23rd, 2017).
This week's mortgage rates may also rise on strength in housing.
Wednesday, the U.S. Census Bureau will release its New Home Sales report for September. New Home Sales will likely report better-than-expected because two related series -- Housing Starts and homebuilder confidence -- posted strongly in recent weeks.
Analysts expect 385,000 New Home Sales on a seasonally-adjusted, annualized basis. New Home Supply, however, may be of more interest -- tightening home supplies has coincided with rising buyer demand to push home values higher.
Thursday, the National Association of REALTORS® releases its Pending Home Sales Index (PHSI). The index is a forward-looking housing market indicator.
Click here for today's mortgage rates (Oct 23rd, 2017).
See Today's Live Mortgage Rates
Mortgage rates rose last week but they remain near all-time lows. If you've been waiting out the market, it's time to get a rate quote. See how today's low mortgage rates can help you household budget.
"Real" rates are available online with no credit check and no obligation. Get started now.
Click here for today's mortgage rates (Oct 23rd, 2017).
The information contained on The Mortgage Reports website is for informational purposes only and is not an advertisement for products offered by Full Beaker. The views and opinions expressed herein are those of the author and do not reflect the policy or position of Full Beaker, its officers, parent, or affiliates.
Try the Mortgage Calculator