Mortgage Rates : New, All-Time Low Expected For Thursday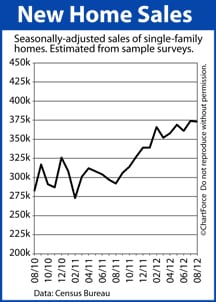 Mortgage-backed securities closed +4/32 Wednesday with the FNMA 30-year 3.0 coupon at 105.30 -- an all-time high.
Also, 2.5 coupons are starting to trade in larger volumes, suggesting that mortgage rates may move lower as 2012 comes to a close.
Conforming mortgage rates fell to new lows ahead of the Freddie Mac weekly mortgage rate survey, and FHA mortgage rates and VA mortgage rates dropped, too, for the seventh straight day.
Jumbo mortgage rates did not change Wednesday.
Click here for up-to-the-minute mortgage rates (Jul 24th, 2017).
Mortgage Rates Benefit From Greece, Strong Auctions 
Mortgage rates opened improved Wednesday, the result of overnight trouble within the Eurozone.
Widespread protesting in Greece against austerity measures and an ongoing demonstration in Spain which surrounded the nation's parliament re-ignited fears of a European breakup.
In search of safer assets, investors moved into mortgage bonds, among other asset types, raising mortgage bond prices and moving mortgage rates down.
The move accelerated beginning at 1:00 PM ET. This is when the U.S. Treasury's released the results of its 5-year Treasury note auction. Demand for the government-backed asset was strong, sparking interest in mortgage-backed bonds, too -- another government-backed asset.
European peril tends to drop U.S. mortgage rates.
Click here for up-to-the-minute mortgage rates (Jul 24th, 2017).
New Construction : Now A "Seller's Market"
Also on Wednesday, the Census Bureau released its New Home Sales report for August. The report showed 373,000 newly-built homes sold on a seasonally-adjusted, annualized basis. This is the second-highest reading in two-plus year, and just 1,000 units lower than the month prior.
More importantly, the supply of new homes remained at 4.5 months nationwide. This means that, at the current pace of new home sales, the national stock of "new homes" would be sold out by mid-January 2013. Any supply of less than 6 months is considered a "seller's market".
Not since October 2011 has the national housing supply been higher than 6 months. It's one reason why median sales prices are higher by 14% in the past 10 months -- sellers have negotiation leverage over buyers and that leverage is growing month-by-month.
There were just 141,000 new homes for sale at the end of August.
Click here for up-to-the-minute mortgage rates (Jul 24th, 2017).
Mortgage Rates : Expected To Post New Lows
Thursday is a busy day for economic news. However, with momentum pulling mortgage rates lower, it may take more than economic news to break the current seven-day winning streak.
There is a deluge of data in tomorrow's first hour of trading.
8:30 AM ET : Durable Orders for August
8:30 AM ET : Final GDP for Q2 2012
8:30 AM ET : Jobless Claims for the week ending September 22
Each is a market-mover, traditionally. This week, however, look for the jobs data to make the biggest headlines. Jobs are key in the Federal Reserve's plan to stimulate the U.S. economy. Unexpected strength will may move mortgage rates higher.
Also set for a Thursday release is Freddie Mac's weekly mortgage rate survey. It will likely show mortgage rates falling below last week's 3.49% with 0.6 discount points. Rates will be at a new all-time low.
Lastly, the U.S. Treasury will release the results of its 7-year Treasury note auction at 1:00 PM ET. As with the 5-year auction, a strong auction may help move mortgage rates lower.
Click here for up-to-the-minute mortgage rates (Jul 24th, 2017).
The information contained on The Mortgage Reports website is for informational purposes only and is not an advertisement for products offered by Full Beaker. The views and opinions expressed herein are those of the author and do not reflect the policy or position of Full Beaker, its officers, parent, or affiliates.
Try the Mortgage Calculator