U.S. Foreclosures Selling Quickly With 20% Discounts Nationwide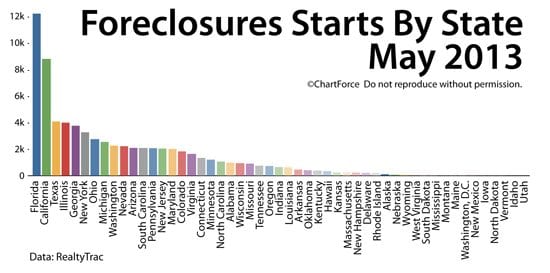 As the U.S. home market recovers, typified by multiple-offer listings and "pocket listings" among real estate agents, affordable homes are still out there for those who know where to look.
According to the National Association of REALTORS®, homes in foreclosure continue to move at steep discounts as compared to non-distressed homes, selling at an average 20% discount.
With home prices rising, cheap foreclosures may be the last "great deals" in housing.
Click here to get foreclosure mortgage rates (Jul 22nd, 2017).
Foreclosure Starts Down 29% Annually
In its monthly report on U.S. foreclosures, foreclosure-tracking firm RealtyTrac showed just slightly more than 148,000 foreclosure filings in May, where "foreclosure filing" is defined to include any of the following : A default notice on a home; a scheduled auction for a home; or, a bank repossession of a home.
A default notice is the formal communication from a lender to a homeowner which indicates that mortgage payments are 90 days past-due. This relevance of 90 days  is that, after three months of non-payment, mortgage contracts typically give lenders the right to foreclosure on the financed property.
Default notices represent the start of the foreclosure process. In May 2013, as compared to May 2012, foreclosure starts dropped 33 percent nationwide. For today's home buyers, it's unwelcome news.
As foreclosures wane, an already-tight U.S. housing supply is strained.
Click here to get foreclosure mortgage rates (Jul 22nd, 2017).
The Shrinking National Housing Supply
Since late-2011, the U.S. housing market has charted a slow, steady recovery. Low home prices and low mortgage rates, plus the availability of low- and no-downpayment mortgage programs have helped to build a strong foundation nationwide.
Some cities have shown massive price gains -- Phoenix, Arizona and San Francisco, California are up 23% and 22%, respectively since last year -- while some, including Boston, Massachusetts show little gains at all. Most U.S. markets, though, are benefiting from a combination of a stronger national economy, of rising costs to rent, and of general consumer optimism.
Another telling point : More people believe that "now is a good time to buy" as compared to those who believe "now is a good time to sell". Buyers see bargains as compared to where home prices may head. Sellers, by contrast, see a light at the end -- if they can just wait long enough to list.
The result has been a drop in the supply of homes for sale. At the current pace of sales, today's entire stock of U.S. home resales and new construction homes would be sold out by September 30, 2013.
Click here to get foreclosure mortgage rates (Jul 22nd, 2017).
Where To Buy Foreclosures In 2013
Foreclosures are an attractive home buying option for both first-time and move-up buyers, and bona fide real estate investors. This is because they can be bought relatively cheap as compared to comparable, non-foreclosed homes.
And, of course, like all else in real estate, foreclosures are local. In some states, foreclosures are more common than in others.
According to RealtyTrac, here are the May 2013 Top 10 States For New Foreclosures :
Florida : 12,273 foreclosure starts
California : 8,846 foreclosure starts
Texas : 4,113 foreclosure starts
Illinois : 4,021 foreclosure starts
Georgia : 3,789 foreclosure starts
New York : 3,299 foreclosure starts
Ohio : 2,777 foreclosure starts
Michigan : 2,566 foreclosure starts
Washington : 2,284 foreclosure starts
Nevada : 2,244 foreclosure starts
At the other end of the Foreclosure Start scale, between North Dakota, Vermont, Idaho and Utah, there were just 2 foreclosure starts combined last month.
How Much Can You Afford For A Foreclosed Home?
For buyers of foreclosures, it's not just home prices that are low. So are downpayment requirements. Via the FHA, a 3.5% downpayment mortgage program is available; Fannie Mae has its Conventional 97 mortgage program; and U.S. military servicepersons and veterans get access to a zero-down mortgages via the VA Loan program.
See how today's low mortgage rates fit into your budget. Get started with a rate quote today.
Click here to get foreclosure mortgage rates (Jul 22nd, 2017).
The information contained on The Mortgage Reports website is for informational purposes only and is not an advertisement for products offered by Full Beaker. The views and opinions expressed herein are those of the author and do not reflect the policy or position of Full Beaker, its officers, parent, or affiliates.
Try the Mortgage Calculator