Mortgage Rates : QE3 Benefits Sliced By New Mortgage "G-Fees"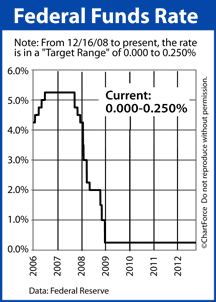 The Refinance Boom received a government kick-start late last week as the Fed took steps to suppress rising mortgage rates.
As this week's markets open, mortgage bond pricing is an all-time best.
Click here to get today's mortgage rates (Nov 21st, 2017).
Rates Back To All-Time Lows
Despite growing evidence of a U.S. economic rebound, mortgage markets improved last week.
Consumer Confidence and Retail Sales exceeded expectations, and housing data showed that the number of foreclosures is slowing nationwide.
In addition, last week, the Eurozone moved another step closer to funding its most troubled nations including Spain, Greece and Italy; the German courts cleared the legality of the European Stability Mechanism (ESM).
This paves the way for a broad Eurozone bailout later this year.
In most weeks, events such as these would spur risk-taking among global investors, boosting stocks and harming the U.S. bond market because bond markets are considered "safe" places to invest. However, the Federal Reserve's new stimulus plan has created specific investor interest in the mortgage-backed bond market.
While most bonds lose, mortgage bonds win. It's helping to keep mortgage rates low nationwide.
Click here to get today's mortgage rates (Nov 21st, 2017).
Fed Launches QE3 To Aid Jobs Market, Mortgage Rates
The Federal Open Market Committee held its sixth scheduled meeting of the year last week. Upon adjourning, it announced a new round of quantitative easing -- it's third since 2008.
Quantitative easing is a program by which the Federal Reserve prints new money, then uses that money to buy assets in the open market. In making itself an asset buyer with large scale, the Fed raises the overall demand for that asset which, in turn, helps to support high prices.
In the mortgage-bond market, high prices correlate to low mortgage rates.
Click here to get today's mortgage rates (Nov 21st, 2017).
What makes this round of QE different from prior rounds, though, is that that Fed designed QE3 to be "open-ended". There is no specific end-date nor program size specified for QE3 which gives the program a distinctly different feel from the original QE and QE2.
Note the difference in size and makeup of the recent QE programs :  
2008 : QE sized at $600 billion total, a mix of treasuries and mortgage bonds
2010 : QE2 sized at $900 billion total, a mix of treasuries and mortgage bonds
2012 : QE3 sized at $40 billion per month, mortgage bonds only 
The Fed will continue to buy mortgage bonds until it feels that it's time to stop. That could be at the end of 2012, or at anytime in the future -- 2015 or beyond.
Also at its meeting, the FOMC announced a commitment to keep the Fed Funds Funds Rate in its current target range of 0.000-0.250% until mid-2015, at least.
Click here to get today's mortgage rates (Nov 21st, 2017).
New, Mandatory Loan Fees Erasing QE3 Effect?
Mortgage rates fell last week. After the Fed's QE3 announcement, rates dropped as much as 0.25% for conforming mortgages in places including Alexandria, Virginia; Orange County, California; and, Seattle, Washington. FHA mortgage rates fell, too.
This week, however, mortgage rates are set to give those gains up. As the government's new "guarantee fees" come into play, mortgage pricing will worsen by 50 basis points -- a move that will raise rates up to 0.250%.
What one arm of the government giveth, another arm taketh away. If you're shopping for a mortgage, therefore, consider locking in soon. QE3 is helping to lower rates, but its effects may not last for long.
Click here to get today's mortgage rates (Nov 21st, 2017).
The information contained on The Mortgage Reports website is for informational purposes only and is not an advertisement for products offered by Full Beaker. The views and opinions expressed herein are those of the author and do not reflect the policy or position of Full Beaker, its officers, parent, or affiliates.
Try the Mortgage Calculator