HARP 3 : Giving The #MyRefi Program To 7 Million U.S. Households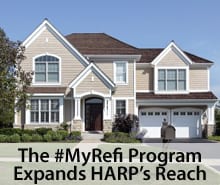 HARP : Good For The Economy
When the Home Affordable Refinance Program (HARP) was first launched in 2009, it was simultaneously billed as a way to help underwater homeowners get access to low mortgage rates, and a way to stimulate the U.S. economy.
This is because lower mortgage rates yield lower mortgage payments, which reduces a household's monthly expenses. With fewer expenses, more money is available for saving and spending -- both of which are good for an economy in recovery.
HARP was meant to help 7 million U.S. households. It's initial release fell well short of that goal, however, reaching just 900,000.
Click here to get today's HARP mortgage rates (Jul 22nd, 2017).
HARP : Limited By Liability To Lenders
The reasons for the shortfall were many.
There was limited lender capacity for HARP. HARP's appraisal process was costly and time-consuming. HARP required large loan-level pricing adjustments which often negated interest rate savings. There were limitations on how banks could market for the HARP program. Also, there were the legal risks for banks making HARP loans.
Because so few HARP mortgages were made between 2009 and 2011, the government modified the HARP program into HARP 2.0. HARP 2 released in March 2012.
So far, HARP 2 has been more successful than the original HARP in terms of "households served". Demand has been strong and refinance activity is up. HARP mortgages account for roughly 1 in 5 refinances.
Click here to get today's HARP mortgage rates (Jul 22nd, 2017).
For many U.S. households, however, even HARP 2 is too restrictive. For example, homeowners whose mortgages are not backed by Fannie Mae or Freddie Mac remain ineligible for HARP, as do homeowners whose mortgages have a note date of after May 31, 2009.
Furthermore, because legal risks remain for HARP-participating banks, many have created their own, more-restrictive version of the HARP 2 mortgage guidelines.
Known as "investor overlays", these new guidelines are tougher than the government's official HARP rulebook and homeowners and, once again, the government may find itself falling short of its 7 million household target.
HARP 3 Gains Momentum; Offers Hope To Homeowners
So now, there is talk of HARP 3.
Also known as the #MyRefi program, HARP 3 would expand HARP 2 to include more U.S. homeowners. My Refi would also reduce the liability of banks that choose to make HARP 3 loans. This combination would make more homeowners HARP-eligible and would give banks more reasons to do HARP loans for customers.
#MyRefi is getting serious consideration in Washington and may pass later this year.
Click here to get today's HARP mortgage rates (Jul 22nd, 2017).
The information contained on The Mortgage Reports website is for informational purposes only and is not an advertisement for products offered by Full Beaker. The views and opinions expressed herein are those of the author and do not reflect the policy or position of Full Beaker, its officers, parent, or affiliates.
Try the Mortgage Calculator