Home Values Continue Impressive 5-Year Climb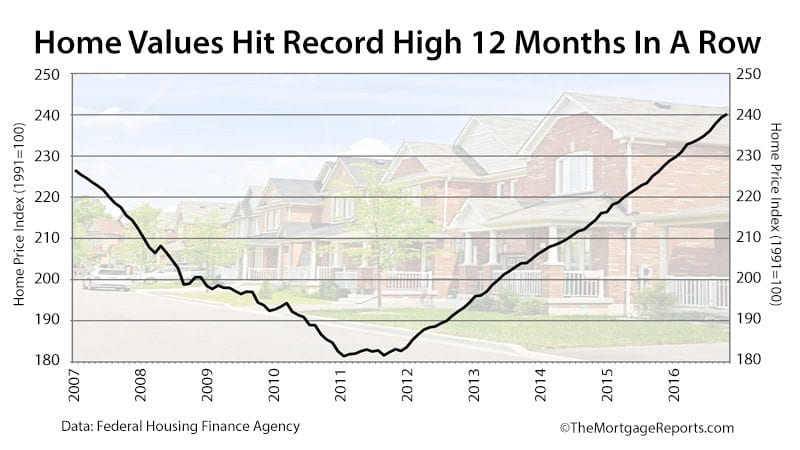 Low Mortgage Rates, High Buyer Demand Push Up Home Prices
U.S. home values have continued to rise, pushing home prices to new, all-time highs, non-adjusted for inflation.
The Home Price Index, which is published by the Federal Housing Finance Agency (FHFA), shows U.S. property values up another 0.4 percent in October.
Home values have risen 64 of the last sixty-seven months, increasing nearly 35% nationwide.
Year-over-year, valuations are up 6.2% -- one of the highest readings this decade.
With values rising, homeowners are finding themselves in a good equity position. They are refinancing with a standard conventional refinance when they lacked required equity last year.
Those still approaching positive equity are using the HARP program to refinance immediately.
The rise in home valuation is spurring U.S. home sales, too, with renters worried about "missing out" on today's active market. Homes are expected to get more expensive into 2017, not only in sticker price but in financing costs, too.
Mortgage rates are on a historic run upward.
This is creating an urgency to buy homes.
Thankfully, there is an abundance of low- and no-down payment mortgages, including a program available from most lenders called HomeReady™.
HomeReady™ allows for just 3% down.
It's an excellent time to be a buyer. Mortgage rates are low, home values are projected to rise, and banks are approving more mortgage applications than during any period this decade.
Click to see today's rates (Feb 22nd, 2017)
Home Price Index Reaches New Heights
The FHFA Home Price Index is a product of the Federal Home Finance Agency (FHFA). It tracks changes in the value of a home between subsequent sales. Data is supplied via Fannie Mae and Freddie Mac as part of the mortgage approval process.
The Home Price Index (HPI) is benchmarked to a value of 100, which is meant to represent the U.S. housing market as it existed in 1991, the year in which the index was created.
In October 2016, the Home Price Index climbed to 240.2, a 0.4 percent increase from the month prior and a 6.2% increase from year-ago levels.
It's also the highest published reading of all-time on a non-adjusted basis, surpassing the April 2007 peak by more than 6%.
The rebound suggests that housing has made a "full recovery" from last decade's downturn -- but today's active buyers already knew that.
Homes have been selling more rapidly than in prior months and at higher prices.
Bidding wars are common with aggressively-priced homes. In many U.S. markets, it's not usual to see homes sell above their initial list price.
Additionally, the National Association of Home Builders (NAHB) reports an influx of buyer interest, which has foot traffic through model units near its highest point in a decade. Because of these factors, home values are expected to climb in the coming months.
And in 2017, mortgage rates are unlikely to temper rising prices, as in 2016.
Freddie Mac's weekly mortgage rate data puts the average 30-year conventional fixed-rate mortgage at 2-year highs. Fortunately, FHA and VA mortgage rates are quoted lower.
FHA mortgage rates typically run 12.5 basis points (0.125%) below rates for a comparable conventional loan, and VA mortgage rates typically out lower by 25 basis points (0.25%).
You can afford "more home" when you find your best mortgage rate.
Click to see today's rates (Feb 22nd, 2017)
Mountain Region Leads Home Price Growth
The FHFA Home Price Index is up more than six percent from one year ago nationwide. State-by-state, the story's a little bit different.
Not all areas are expanding at the same growth rate.
What's happening in California, for example, is not the same as what's happening in Florida. The Home Price Index doesn't address state-level activity in this manner.
It does, however, group values by region.
As compared to one year ago, the Mountain region is leading the nation, rising 8.3% from the year prior. The Pacific region is a close second, at a 8.0% increase.
Annually, home price growth has varied by region:
Pacific : +8.0% (Hawaii, Alaska, Washington, Oregon, California)

Mountain : +8.3% (Montana, Idaho, Wyoming, Nevada, Utah, Colorado, Arizona)
Middle Atlantic : +3.6% (New York, New Jersey, Pennsylvania)
East North Central : +5.6% (Michigan, Wisconsin, Illinois, Indiana, Ohio)
South Atlantic : +7.6% (Delaware, Maryland, District of Columbia, Virginia, West Virginia, North Carolina, South Carolina, Georgia, Florida)
New England, an area which includes Maine, New Hampshire, Vermont, Massachusetts, Rhode Island, and Connecticut, has changed +5.0 percent since twelve months ago.
The West North Central, which includes Oklahoma, Arkansas, Texas, and Louisiana, rose +4.9%.
What Are Today's Mortgage Rates?
Home values are rising sharply, but the cost of homeownership is not. This is because mortgage rates are low, and lenders are approving more loans than during any period this decade.
Take a look at today's live rates now. Rates are available with no social security number required to get started, and with instant access to your "mortgage credit scores."
Click to see today's rates (Feb 22nd, 2017)
The information contained on The Mortgage Reports website is for informational purposes only and is not an advertisement for products offered by Full Beaker. The views and opinions expressed herein are those of the author and do not reflect the policy or position of Full Beaker, its officers, parent, or affiliates.

Try the Mortgage Calculator